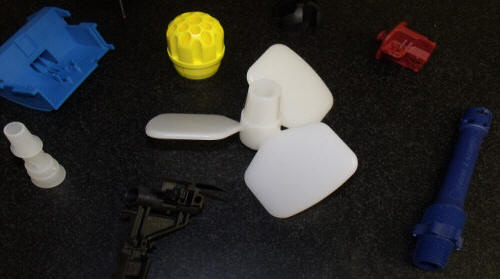 About
Legacy Molding has experienced consistent growth since its inception in 2000. Why?

Answer: Legacy Molding has a demonstrated ability to resolve the issues associated with producing the most challenging molded part.

Tap into the knowledge associated with over 30 years of combined industry experience. Off load the headaches that can place undue demands on your time - it's the option that existing Legacy Molding customers have selected to streamline their acquisition process!
Expanded Markets
Legacy Molding Corporation has shifted increasingly into a more aggressive sales and marketing posture - and the results are positive. Customers have been developed across several additional market segments, lured by Legacy's insistence that they are the injection molding partner that is best positioned to make the rollout of a new component a pain-free process.
A New Facility - Greater Capacity and Capability
Upon assuming occupancy of their new facility, Legacy Molding found an ideal platform for continued growth. In addition, this move afforded the opportunity to incorporate new, lean manufacturing elements into the plant layout. Increased efficiency means reduced production costs and lower part prices.
The Injection Molding Supplier to Rely On
More importantly, Legacy Molding clearly understands what really matters in driving Customer Satisfaction - and it involves priorities that extend beyond pricing alone. After all, if you place your order with an injection molder based solely on low price, only to encounter problems with quality and delivery time - your savings just evaporated.

Legacy Molding Corporation is the supplier that becomes fully immersed in your project, identifying completely with your objectives from the beginning.
No Surprises
Simply stated - there are no surprises - just the delivery of your parts order on time and defect free.
No Lot Minimums!
Whatever you need, 1 part or 100,000 parts
No Cost Penalty for
Buying American!
The tide is turning! It is increasingly clear that offshore sourcing of manufactured components is not the "be all, end all" that it was once thought to be. Quality problems, communications issues, long transit times and price creep are but a few of the reasons that the term "Buy American" is back, stronger than ever. Call us with your requirements and be pleasantly surprised with our competitive pricing, short delivery times, exceptional quality and outstanding customer service!
Don't take our word for it, check out this CNN article on the resurgence of American Manufacturing.
Let Legacy Molding become your technical, injection molding resource!